Update Manager
Notifications
In the past, available updates were simply indicated by a little orange dot on the Update Manager's icon in the system tray and could go unnoticed for long periods of time. In Linux Mint 20.2 the Update Manager is now able to remember how long each update has been available for, how many days the computer was ON during that time and assess whether or not a notification would be welcome to remind you of available updates.

Updates notification
This new notification feature was designed to add comfort to the user experience, not remove any, so making sure it was a nice addition and not an annoying distraction was key. The way this is handled in other operating systems such as Windows or Mac for instance was an example Linux Mint did not want to follow.
For the notification to be welcomed and welcomed again it needs to happen for a reason, to be easy to dismiss if your are busy, to not come back constantly and to not come back at all for a long while after you apply the updates. When a notification is dismissed it is snoozed for 2 days. When updates are applied it goes away for a long time. The conditions for the notification to be shown in the first place are configurable.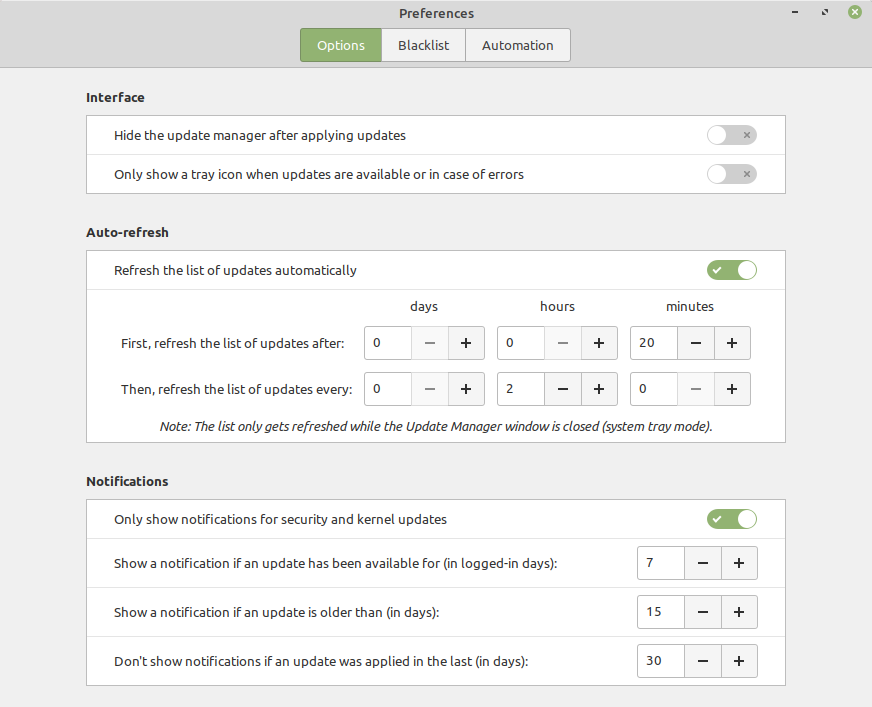 Notification preferences
By default, the Update Manager shows a notification if a particular update has been available for more than 7 logged-in days or if it's older than 15 calendar days. These values can be configured all the way down to 2 days or all the way up to 3 months.
By default the Update Manager also only counts security and kernel updates as being relevant for notifications but you can change that in the preferences.
The last setting is a grace period. If any update has been applied on your computer in the last 30 days, whether it's via the Update Manager or via another APT software, no notifications will be shown.
On computers where updates are not wanted and 3 months is not enough there's no need to keep the Update Manager running in the background and it can be disabled entirely.
Other improvements
The Update Manager handles the automation of Flatpak updates. This was previously located in "Startup Applications".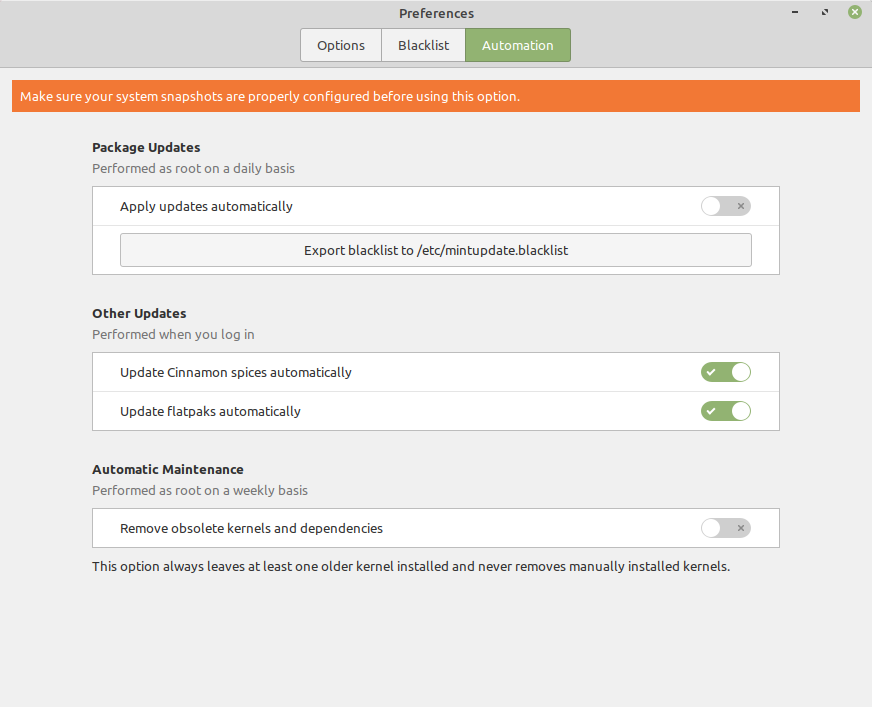 Automated Flatpak updates
Unused Flatpak runtimes are automatically removed when this option is active.
The power source of the computer is now checked prior to the launch of automated updates to ensure they do not run when the computer is on battery.