Release Notes for Linux Mint 9 KDE
Introduction
This is the KDE edition of Linux Mint 9, codename Isadora, based and compatible with Kubuntu 10.04 Lucid Lynx and its repositories.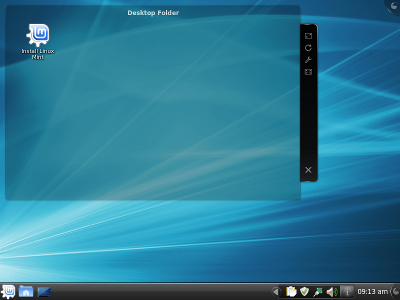 New features
Based on Kubuntu 10.04 Lucid Lynx, Linux 2.6.32, KDE 4.4.4, Xorg 7.5 and Amarok 2.3.0, this edition features a lot of improvements and the latest software from the Open Source World.
Featured improvements in this release: KDE Network Manager, new applications, 30,000 applications catalogued and reviewable both online and in the new software manager, brand new incremental backup tool for both data and software selection, USB and Windows installers, 3 years support, look & feel improvements.
For a complete list of new features read: What's new in Linux Mint 9 KDE?
Important links
Known problems
Splash screen resolution
If the boot sequence only shows dots and no logo, you can make it look better by following these instructions.
Moonlight
Moonlight was removed from Linux Mint 9 because of a bug that made Firefox crash. The bug was fixed upstream and you can install the Moonlight plugin from the project's website.
Two kernels
The 64-bit version of Linux Mint 9 KDE comes with two kernels by default.
Browse C:\
In the Wine menu, you need to click on "Configure Wine" before you can "Browse C:\".
Upstream issues
Linux Mint 9 is based on Lucid Lynx. Make sure to read the known issues related to this release.